Opublikowano: 21 marzec 2014
Odsłony: 2758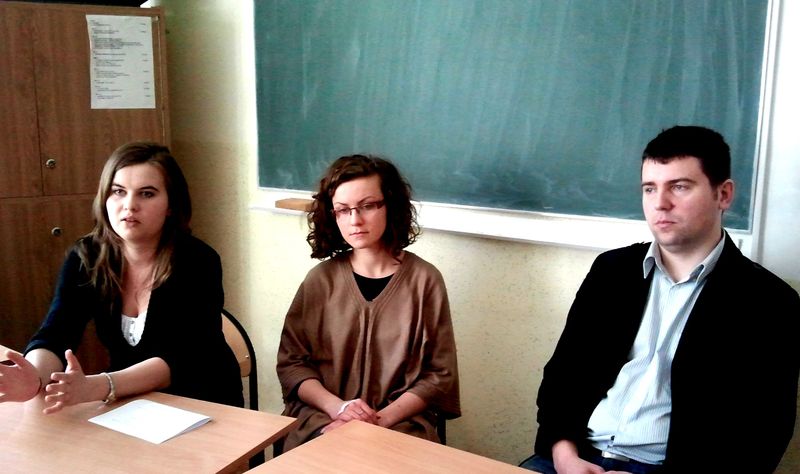 W czwartek 20 marca w II LO odbyło się spotkanie z dziennikarzami z lokalnych mediów Łańcuta. Wydarzenie to miało na celu przybliżyć młodym ludziom sposoby wykonywania zawodu, jak  również tajniki samej pracy dziennikarskiej. Podczas spotkania dowiedzieliśmy się, że niekoniecznie trzeba być po studiach o tym kierunku, aby pracować w mediach. Należy natomiast być człowiekiem z pasją i mieć ambicję.
   Jako pierwsza zabrała głos pani redaktor Katarzyna Pilch z "TV Łańcut", stacji, która już niedługo będzie dostępna w telewizji kablowej.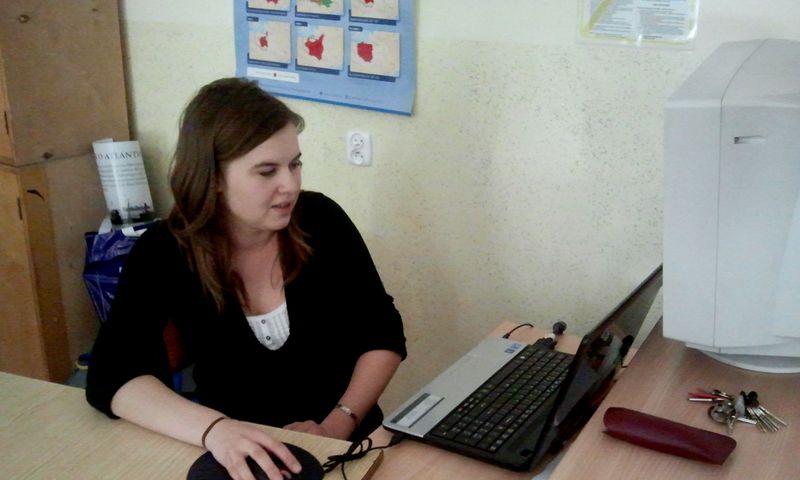 Opowiedziała nam o tym, jak odnalazła się w swojej pracy, przyznała, że nie jest zawodową dziennikarką, ponieważ nie wszystkiego można nauczyć się na studiach. Jak się okazało dziennikarką została przez "przypadek". Po studiach odbywała staż w MDK-u w Łańcucie, w tym czasie zastępowała też koleżankę z telewizji łańcuckiej i tak zaprzyjaźniła się z kadrem. Początki nie były łatwe i pierwsze reportaże bardzo różniły się od tych, które nagrywa teraz.
    "Dziennikarz musi znać język polski, musi go znać bardzo dobrze, musi potrafić się wypowiadać pisemnie."
Dowiedzieliśmy się, że telewizja to równowaga tekstu, dźwięku i obrazu. Należy wykorzystać możliwość działania na rożne zmysły, żeby nie nudzić odbiorcy. Nie należy też oceniać, trzeba być obiektywnym, nie wolno kierować się zasadą "sensacja, plotka, komentarz". Podajemy tyko rzetelne, sprawdzone, aktualne, krótkie, zwięzłe i dokładne informacje. Praca ta oznacza także kontakty z ludźmi, dlatego nie można się bać, aby umówić się na wywiad, trzeba podjąć wiele prób, aby osiągnąć cel. Trzeba umieć podejść do ludzi i być otwartym na nich, a przede wszystkim trzeba lubić to, co się robi.
O swojej pracy opowiedziała nam także pani redaktor Gabriela Blajer  z "Lokalny 24". Swoje pierwsze kroki w zawodzie stawiała w "Korespondencie Łańcuckim" w 2 klasie liceum. Skontaktowała się z panem Czarnotą prosząc o napisanie artykułu o akcji prowadzonej w liceum na rzecz hospicjum. Aby tekst się ukazał, musiała sama stać się jego autorką. Tak zaczęła się współpraca na kilka lat. Z wykształcenia również nie jest dziennikarką.
"Tak. Bardzo lubię swoją pracę, ale wymaga ona przede wszystkim odpowiedniego zacięcia i rozwijania pasji, a także czasu i umiejętności."
      Od roku zajmuje się pisaniem do "Lokalnej 24.pl", portalu, który ściśle współpracuje z "Korespondentem Łańcuckim". Na stronie dokumentuje bieżące wydarzenia – liczy się przede wszystkim czas oraz jakość informacji. Z gazetą jest trochę inaczej, bo treść do niej zbiera się przez cały miesiąc, wybiera się najważniejsze informacje i aktualizuje przed samym wydaniem, żeby były jak najświeższe. Na portalu istotną rolę odgrywa kontakt z czytelnikami, bardzo często to oni sami podsuwają tematy. Czytelnicy potrzebują informacji, a dziennikarze czują się spełnieni, jeśli mogą o czymś poinformować albo pomóc. Ich głos dociera do licznej grupy odbiorców, mogą więc zrobić wiele dobrego. Tekst na portal musi być krótki i musi zawierać sprawdzone informacje, musi być obiektywny. Co innego felietony, w których trzeba wyrazić swoją opinię, napisać komentarz, ocenę, wyrażenie swoich emocji. Do artykułu potrzebne są zdjęcia, żeby zwrócić uwagę odbiorców. Bardzo ważny jest tytuł, który ma zachęcić czytelników, aby przeglądnęli materiał. 
      Głos zabrał również pan Jakub Czarnota przedstawiciel (redaktor, dziennikarz i właściciel) lokalnych mediów m. in. "Korespondenta Łańcuckiego".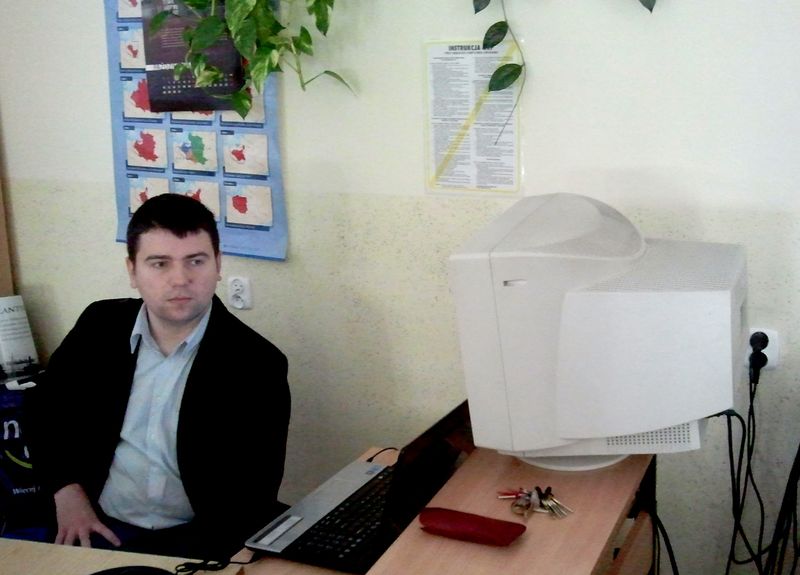 Owa gazeta ukazuje się raz w miesiącu i ma ograniczony zasięg (jest bezpłatna, więc dociera do osób, które zabrały ją z punktów kolportażu), można ją też zobaczyć na stronie internetowej. Trudno pogodzić funkcję redaktora, dziennikarza i właściciela. Pan Czarnota również opowiedział nam o swojej przygodzie z dziennikarstwem. Będąc uczniem II LO w Łańcucie w klasie o profilu dziennikarskim, często spotykał się z lokalnymi dziennikarzami (z Rzeszowa) i mógł w ten sposób poznać pracę w mediach. Pracował też roznosząc ulotki, zdarzało się, że czasem roznosił broszurki 4 – 5 firm. Zauważył, że każda firma płaci oddzielnie za te druczki i wpadł na pomysł, żeby połączyć je w jeden. Pojawił się problem - zazwyczaj nikt nie czyta tych reklam, tylko wyrzuca je. Postanowił, że trzeba dodać do nich treść, żeby przykuć uwagę ludzi. Wpadł na pomysł gazety lokalnej z reklamami.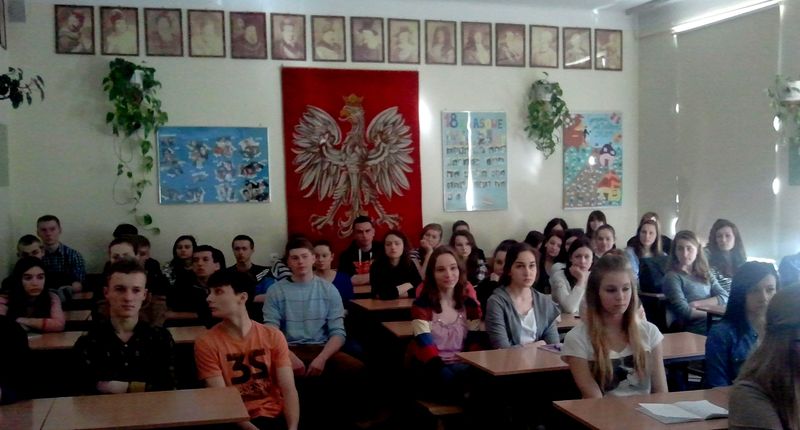 Zastanawiał się czy pójść na studia czy tworzyć gazetę. Wybrał studia. Po studiach powrócił do pomysłu lokalnego medium – źródła informacji dla mieszkańców oraz atrakcyjnej powierzchni reklamowej. Takie połączenie pozwoliło utrzymać gazetę (druk, utrzymanie biura, redakcje, pensje dla dziennikarzy, itd.). Później przyszedł czas na 2, 3 gazetę. Od 2009 r. "Korespondent Łańcucki" funkcjonuje na rynku.
     Dobry dziennikarz to osoba komunikatywna, otwarta na innych ludzi, pełna chęci dociekania i poszukiwania informacji, która przede wszystkim lubić odnajdywać informacje i nie zrażać się jeśli jest to trudne. Ta praca jest niezwykle rozwijająca, wymagająca ogromnej dyscypliny, budująca sieć kontaktów, dostarczająca ogromnej satysfakcji, szczególnie jeśli pisząc – pomagamy ludziom w ich problemach.
 Izabela Rejman