Opublikowano: 08 marzec 2012
Odsłony: 2501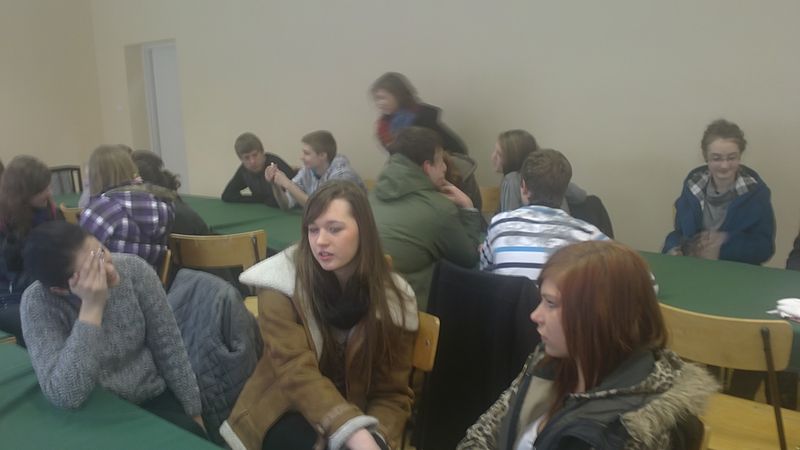 7 marca 2012 roku uczniowie If oraz II f wraz z prof. Dulibanem  udali się do zakładu karnego znajdującego się w Załężu. Celem tego wyjazdu było poznanie więziennego świata i zasad funkcjonowania prawa penitencjarnego. Najpierw odbyliśmy rozmowę z porucznikiem, który dostarczył nam wielu ciekawych informacji na temat swojego miejsca pracy.
Maksymalnie w zakładzie może znajdować się 1002 skazanych, a załoga liczy 300 osób i składa się z funkcjonariuszy, wychowawców oraz psychologów. Rotacja w ciągu roku wynosi 2000 osadzonych pochodzących z różnych części kraju. Charakterystyczna cechą zakładu jest to, że obowiązują na nim ścisłe zasady, gdyż przebywają w nim przestępcy o bardzo wysokim stopniu demoralizacji. Dlatego też zakład jest zamknięty, ale wydzielony został również oddział półotwarty i otwarty. Skazany znajdujący się na którymś z nich może pracować poza zakładem. Ponad to może również ubiegać się o przedterminowe zwolnienie po odbyciu 2/3 lub 3/4 kary. Od 2006 roku jest to tylko zakład męski.
Na jego terenie znajduje się 11 oddziałów mieszkalnych. W każdym przebywa 100 osadzonych w trzech lub czteroosobowych celach. W oddziale dla najniebezpieczniejszych umieszczonych jest 25 skazanych w odosobnionych celach. Znaleźli się tam więźniowie nawet z podwójnym dożywociem.
Środkami oddziaływań są: nauczanie, zatrudnienie oraz zajęcia oświatowo – kulturalne.
Drugą częścią spotkania była rozmowa z trzema skazanymi przebywającymi na 10 oddziale dla uzależnionych. Są tam kierowani więźniowie w celu odbycia sześciomiesięcznej terapii.
Pierwszy z naszych rozmówców miał na imię Robert. W zakładzie znalazł się przez skutki jakie wywołał alkohol i narkotyki, a mianowicie przez napady i kradzieże. Jego problem zaczął się w wieku 11lat, a w więzieniu spędził już 15lat. 4 maja tego roku kończy odbywanie kary, ale ma zamiar kontynuować swoja terapię, aby nie wrócić do dawnego życia. W tym celu, po zwolnieniu, chce pójść do ośrodka dla uzależnionych, gdzie będzie kontynuował leczenie
Drugim ze skazanych był Emil uzależniony od wszelkiego rodzaju narkotyków. W wieku 15lat sięgnął po marihuanę. Dwa lata później odbył pierwsza odsiadkę za napad. Obecnie ma 30 lat. Na terapię poszedł z negatywnym nastawieniem, jednak na zajęciach dostrzegł, że problem uzależnienia dotyczy jego i postanowił to zmienić.
Trzecim z nich był Sławek. Z powodu uzależniania od alkoholu, narkotyków i hazardu przebywa już 11lat w zakładzie. Wszystko zaczęło się od napadów rabunkowych w wieku 17lat. Teraz chce żyć inaczej: "Jestem w połowie drogi i nie wiem co będzie dalej, ale mam nadzieję".
Dowiedzieliśmy się również od niech o "prawie pięści", które mówi, że silniejszy rządzi. W zakładzie istnieje hierarchia, która uwzględnia stan majątkowy oraz popełnione przestępstwo. Zgodnie z nią najniżej położeni są pedofile i gwałciciele, a najwyżej – bogaci przestępcy z pierwszych stron gazet, którzy budzą respekt u współwięźniów.
Mimo, że nie mieliśmy okazji zobaczyć niczego więcej poza więzienną świetlicą, to lekcja w Załężu okazała się być niezwykle interesująca. Żyjąc w wolnym, nie ograniczonym przez mury świecie nie zdawaliśmy sobie sprawy z tego jak wygląda życie w zakładzie karnym. Dzięki temu spotkaniu zostaliśmy z nim choć w części zapoznani i mieliśmy okazję znaleźć się w innym, nieznanym nam środowisku. Ponad to rozmowa z więźniami mogła stać się także przestrogą, żeby nie zniszczyć swojego życia przez młodzieńczą ciekawość zakazanego świata.
Karolina Raciunas