Opublikowano: 19 listopad 2012
Odsłony: 1997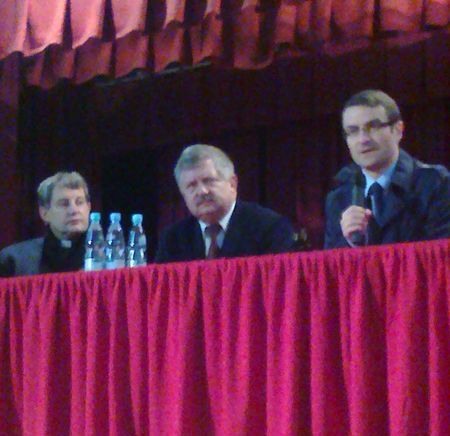 17 listopada uczniowie II LO  uczestniczyli w spotkaniu z posłem PiS do Parlamentu Europejskiego, Tomaszem Porębą, pod hasłem: "Polska w Unii Europejskiej – szanse oraz zagrożenia". Spotkanie odbyło się w salce teatralnej za kościołem św. Stanisława w Łańcucie. Zebranych powitał ks. Jan Częczek.
Wieści z Warszawy
            Na początku głos zabrał poseł Kazimierz Gołojuch, który naświetlił ostatnie działania polskiego Sejmu oraz sytuację wewnętrzną.
Wprowadzono ustawę dot. nasiennictwa, która umożliwia dystrybucję oraz składowanie na terenie Polski nasion genetycznie modyfikowanych. Będą one także wpisywane do rejestru. Jest to postępowanie nieracjonalne, albowiem Niemcy, Francja, Austria wycofują się z podobnych decyzji. Kolejnym działaniem była tzw. ustawa deregulacyjna, która ma ułatwić dostęp do zawodów. Poseł opowiadał o budżecie na rok 2013 oraz jego staraniach przeciwko likwidacji sądów, komisariatów. Usunięcie ich utrudni dostęp ludzi do urzędów. Poruszono także kwestię polskiego transportu, autostrad, obwodnic, pośród których znalazł się także problem Łańcuta oraz Podkarpacia.
Przy stole czy pod stołem?
             Poseł do Parlamentu Europejskiego - Tomasz Poręba nakreślił ogólną sytuację Rzeczypospolitej w polityce zagranicznej, o której nie informują nas media oraz rząd. Po szczycie Unii coraz więcej pieniędzy zostanie w Brukseli i nikt nie liczy się z zapewnieniami premiera, że fundusze będą rosły. Szczególnie kraje tzw. ,, Starej Unii''. Poseł mówił o bardzo małej aktywności polskiego rządu, który swoimi nieodpowiedzialnymi decyzjami zmniejsza polskie środki, które powinny wynosić 500 mld.€, z czego 330 mld. na politykę spójności. Prezes Rady Ministrów sam stwierdził, że nasz budżet będzie wynosił 400 mld.€, zaś 100 mld. zostanie zabrane z sektora rolnictwa. " Poklepuje się nas po plecach, ale realnie nic z tego nie mamy'' – alarmował poseł Poręba i trudno się z tą scalającą opinią nie zgodzić. Zamknięte stocznie dobitnie o tym świadczą, gdyż należy pamiętać o tym, że podobne stocznie za granicą doskonale funkcjonują. Dalej,  gazociąg północy został zbudowany zbyt płytko, dlatego do polskich portów (np. Świnoujście) nie mogą wpływać statki o dużej wyporności. Trzeba pamiętać, że na terenach niemieckich z gazociągiem, podobna sytuacja nie ma prawa bytu. Takie działanie to swoista blokada polskich portów, ale jak to określił poseł ,,Niemcy nie szanują Polski, bo jest słaba''. Należy jednak pamiętać, że właśnie Niemcy są naszym głównym partnerem handlowym.
Rolnik czy niewolnik?
            Pogorszyła się także sytuacja polskiego rolnika. Otrzymuje on 196€ dopłat do hektara. Należy jednak pamiętać, że rolnik francuski oraz niemiecki otrzymują kwoty w granicach 300-350€. Najbardziej brutalne jest jednak zestawienie z Grecją, która mimo kryzysu dopłaca swojemu rolnikowi do hektara aż 560€! Pomimo okresu Prezydencji, kiedy mieliśmy znaczący głos decyzyjny, sprawa polskiego rolnictwa nie została w żadnym stopniu podjęta. Polscy rolnicy muszą precyzyjnie spełniać unijne decyzje, ale nikt im w tym nie pomaga.
Nierówna równość
            Tomasz Poręba zwrócił uwagę na fakt bardzo małego zainteresowania Unii sprawami rodziny. Brakuje zapisów dot. pomocy rodzinie. Dając równość wszystkim zapomina się o tej podstawowej jednostce, której nawet nie definiuje się jako: ojciec, matka i dzieci. W dokumentach unijnych nawet nie ma słowa o rodzinie czy chrześcijaństwie. Należy pamiętać, że sytuacja rodzin w Polsce (szczególnie wielodzietnych) jest katastrofalna, zaś rząd prowadzi politykę ''antyrodzinną''. Brakuje pracy dla ludzi młodych, za granicą jest ok. 2 milionowa Polonia. Poza Polską rodzi się ok. 300 tys. naszych rodaków. Jak podaje Główny Urząd Statystyczny na polską rodzinę przypada 1,2 dziecka. ,, Nasze społeczeństwo się starzeje'' – mówił Tomasz Poręba, który zaznaczał, że podatek na butki dziecięce wzrósł z 7%-23%. Wg. Poręby, powinien on wynosić …0%. Dodano także, że koalicja coraz mniej liczy się z opozycją. Zmieniono regulamin sejmowy, który posłowi na wypowiedź daje tylko jedną minutę. Europoseł poruszył także '' sprawę katolicką'' czyli coraz większy atak na środowiska religijne. Przykładem może być konferencja jednego z polityków przed drzwiami kaplicy sejmowej. Także słynna już debata wokół Radia Maryja oraz TV Trwam jest ilustracją braku równości. Można się z tymi mediami nie zgadzać, ale zgodnie z zasadą równości, przysługuje im prawo obecności w przestrzeni publicznej. Należy jednak przyznać, że prowadzone są działania odwrotne: manipulacje czy drastyczne podwyższenie opłat przez KRRiT.
I do szabli i do … szklanki
            Poseł Poręba podjął temat łańcuckiego POLMOSU, który jest ważny zakładem polskiego przemysłu alkoholowego. POLMOS został sprzedany za 14 mln. zł, ale wiadomo, że jego wartość była o wiele wyższa. Sąd umorzył akt oskarżenia. Już teraz pojawiają się pytania czy był faktycznie jakiś realny kupiec? Poseł Kazimierz Gołojuch, który miał dostęp do pełnej dokumentacji, nazwał to wszystko ,, największym przekrętem''. Krytycznie oceniono pomysł prywatyzacji Polskich Kolei Liniowych, które doskonale funkcjonują i przynoszą duże dochody. Tomasz Poręba zaproponował wprowadzenie podatku obrotowego, który byłby egzekwowany od towarów z zagranicy Jest to wzór czerpany z praktyki węgierskiej.
Zadłużone noworodki
            Polskie media ostatnio zdominowała sprawa paktu fiskalnego, chociaż Polska nie jest w strefie Euro. Podobne działania sprawią, że nasz kraj stanie się mało atrakcyjny dla inwestorów. Polscy emeryci, których duża grupa zgromadziła się na spotkaniu, także odstają od Europy. Średnia emerytura w Grecji wynosi ok. 800€. Okres pięciu lat rządu koalicji to wzrost zadłużenia państwa z 500 mld do 900 mld. Oznacza to, że dług publiczny dotyczy już noworodków. Każdy z nas ma na karku dług w wysokości 25 tys. złotych. Taka sytuacja nastąpiła mimo wzrostu gospodarczego.
Money, money, Money must be funny…
            Mimo funduszy z Brukseli nie potrafimy ich dobrze wykorzystywać. Pod tym względem jesteśmy dopiero w drugiej dziesiątce. Fundusze na politykę spójności tj. 67 mld.€ nie zostaną dobrze wykorzystane. Sam komisarz europejski Johannes Hahnan stwierdza, że z puli 1 mld. € 80% tej sumy wróci do Unii. Ucierpi na tym kolej.  Polska kolej jest wystarczająco dobitnym przykładem. ,, Kolej w Polsce się zwija''-dodaje Tomasz Poręba. Jego zdaniem więcej pieniędzy powinno się przeznaczyć na: szerokopasmowy Internet, innowacyjność, gospodarkę oraz oświatę. W Unii nie ma nic za darmo, gdyż Wspólnota to nie dobra krowa, która daje i nie wymaga. Obecnie składki do budżetu europejskiego wynoszą 25 mld. €, ale mimo wszystko dostajemy więcej niż płacimy. Nasze drogi wiodą z zachodu na wschód stając się poletkiem przepływu i transportu Rosji oraz Niemiec. Trzeba wiedzieć, że w Brukseli trwały rozmowy w celu utworzenia trasy przez Polskę, Węgry, Rumunię aż po … Grecję.  W rozmowach o tejże drodze łączącej kraje uczestniczyli najwyżsi urzędnicy państw, zaś Polskę reprezentował tam … stażysta.
Ile jest cukru w cukrze?
            Poseł podjął temat polskiego cukru. Cały czas w naszym kraju produkuje się mniej cukru niż jest jego zapotrzebowanie. 200 tys. ton należy sprowadzić, głównie  z Brazylii. Polacy postępując zgodnie z zaleceniami paktu z Kioto ograniczyli o 30% emisję CO2 znacznie bardziej niż inne kraje. Wśród podjętych problemów należy także wymienić jeszcze: rząd techniczny, kampanię wyborczą oraz sytuację szpitala w Łańcucie. Zwłaszcza ten ostatni temat wzbudził wiele emocji. W dyskusję włączył się wiceprzewodniczący Rady Powiatu- Ryszard Rejman. Obecna spółka z.o.o. jest krytykowana za złe partnerstwo publiczno- prywatne, które przez wielu jest uznane za najbardziej szkodliwe. Jego właścicielem jest w 100% powiat, ale to nie oznacza, że powiat w pełni go kontroluje. Wartość szpitala ocenia się na 50 mln zł.
Jak cię widzą, tak cię piszą
            Na koniec Tomasz Poręba skonstatował rozważania ukazując dominanty polskiego wizerunku za granicą. Polska polityka zagraniczna jest słaba, dziecinna oraz nieodpowiedzialna. W kuluarach politycy amerykańscy i europejscy śmieją sięz polskiej bezsilności oraz głupoty z zakresu katastrofy smoleńskiej, czyli oddania śledztwa Rosji. Jednak nie należy oczekiwać szacunku zagranicznego, jeżeli sami nie potrafimy zadbać o swoje interesy. Tomasz Poręba obala mit ''sąsiadów''. Polska jest dobrym partnerem bo nikt się z nią nie liczy. Polska władza zgadza się na wszystko, ale mało z tego służy dobru państwa. Przykład? Każdy kraj ma prawo obsadzać swoich ambasadorów w służbie dyplomatycznej Unii. Negocjacje ilustrują liczby: Wegry:8, Hiszpania:11, Belgia (znacznie mniejsza od Polski):15. Polska obsadziła te stanowiska tylko trzema ambasadorami. '' Tak słabego rządu, jeśli chodzi o politykę zagraniczną nie było'' – mówi Poręba. Najdobitniej jednak tę sytuację zilustrują słowa premiera Davida Camerona, z którym poseł Tomasz Poręba spotkał się w Londynie. W prywatnej rozmowie brytyjski premier powiedział dobitnie: ,, Jak można tak amatorsko prowadzić politykę własnego kraju?''.
Przyszłość należy do młodzieży
            Mimo tego wszystkiego poseł stwierdził, że tylko ludzie młodzi mogą w przyszłości kraj zmieniać na lepsze. Mają być to ludzie mądrzy, żyjący wartościami, pełni pasji. Jest to najważniejsze przesłanie spotkania z posłem do PE Tomaszem Porębą. Młodzieży należy się szacunek oraz odpowiednie warunki, aby tutaj żyli i pracowali, swoją codziennością zmieniali świat. Poręba komentuje to tak: ,, Trzeba zrobić wszystko, aby Polacy nie bali się być Polakami i nie musieli za to przepraszać!''
Joanna Mach
Mateusz Kucab