Opublikowano: 12 kwiecień 2014
Odsłony: 2761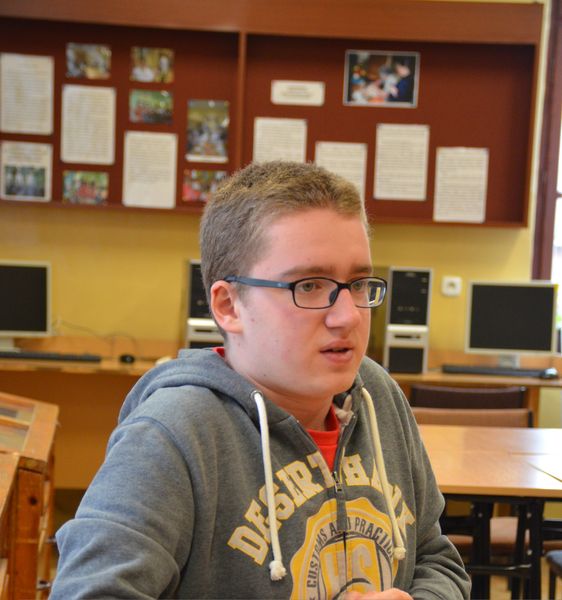 Kamil Witowski od kilkunastu dni jest najbardziej rozpoznawalnym uczniem liceum na Grunwaldzkiej, jeżeli ktoś wcześniej o nim nie słyszał (co byłoby trudne), to od kwietnia bieżącego roku z całą pewnością miał szansę go poznać.
Lista osiągnięć Kamila jest długa, a przede wszystkim imponująca. Na samym jej szczycie znajduje się III miejsce w Ogólnopolskiej  Olimpiadzie Historycznej, a warto dodać, że w jednej z jej dziedzin - XX wiek, Kamil zajął I miejsce, gdyż jak sam mówi XX wiek to jego specjalność. Prawdziwy olimpijski wynik tej olimpiady to tytuł laureata, uzyskany na tych igrzyskach, który zwalnia Kamila z egzaminu maturalnego z historii (Kamil maturę ma już napisaną i to na 100% ) 
Drugim, nie mniejszym, sukcesem jest zajęcie VI miejsca w ogólnokrajowej Olimpiadzie Wiedzy o III RP (co także daje mu tytuł laureata). Nie małym osiągnięciem Kamila jest także tytuł laureata, w etapie okręgowym, Olimpiady Wiedzy o Prawach Człowieka w Świecie Współczesnym, w której zajął I miejsce w województwie. Nasz olimpijczyk odnosi również sukcesy w konkursach związanych z j. angielskim. Zajął II miejsce w Powiatowym Konkursie Języka Angielskiego i Wiedzy o Kulturze Krajów Anglojęzycznych oraz III miejsce w województwie i XXV w kraju w Ogólnopolskim Konkursie Języka Angielskiego Jersz English High Flier.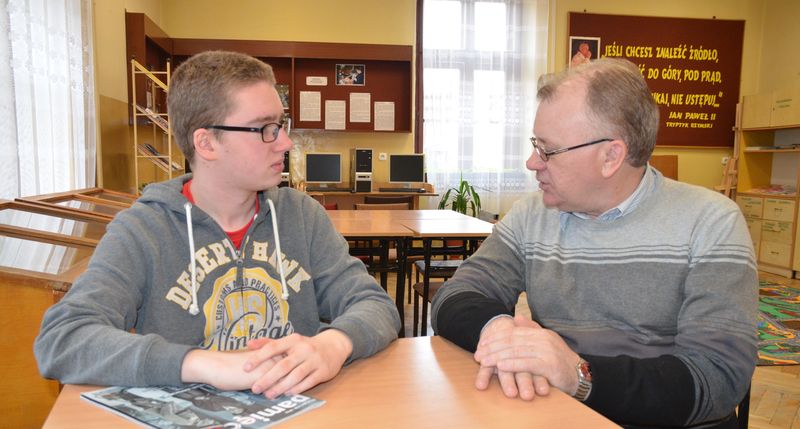 Chociaż sukcesy Kamila wydają się być niczym sen, to w rzeczywistości wymagały dużo pracy i wielu wyrzeczeń. Aby zrealizować swoje cele Kamil wraz z prof. Mariuszem Dulibanem rozpoczął przygotowania już w I klasie liceum, jednak prawdziwa olimpijska gorączka pojawiła się w listopadzie, kiedy Kamil pisał pracę, która pozwoliłaby mu zakwalifikować się do kolejnych etapów. Jak widać miesiące ciężkiej, czasami morderczej, pracy przekształciły się w ogromny sukces. Swoje osiągnięcia Kamil podsumowuje krótko, mówiąc że historia to jego prawdziwa pasja, a wyniki w olimpiadach sprawiły, że poczuł wielką radość i zarazem ulgę, że udało mu się zrealizować swoje marzenia a także oczekiwania osób, które wiedziały na co go stać. Kamil od początku miał wielkie wsparcie zarówno od klasy i dyrekcji szkoły,  jak i od prof. Dulibana, który przygotowania Kamila porównuje do treningów sportowców na Igrzyska Olimpijskie, gdzie należy wykorzystać każdą wolną chwilę, aby przygotować uczestnika zarówno pod względem merytorycznym jak i psychicznym, ponieważ udział w takim przedsięwzięciu to ogromny stres dla każdego ucznia i dla każdego trenera, bo przecież w zmaganiach biorą udział wszyscy najlepsi z Polski. Ta ogromna pasja Kamila to również jego start w przyszłe życie, gdyż czekają na niego najlepsze uczelnie w kraju.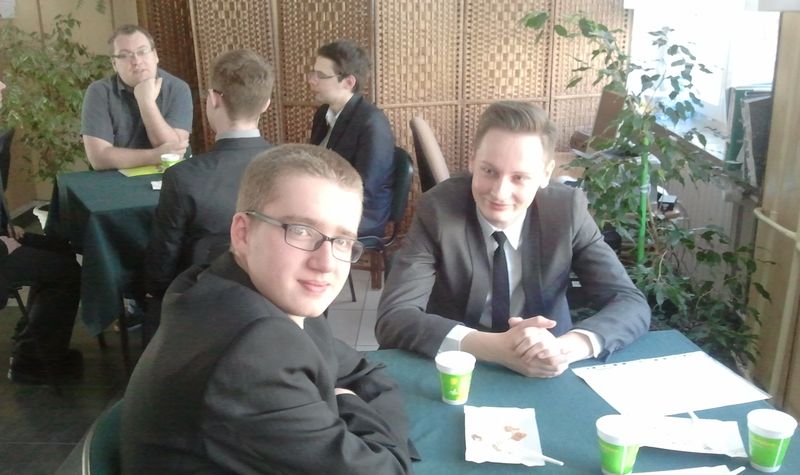 Warto zauważyć również wszechstronność Kamila, który próbował swoich sił także
w Olimpiadzie Wiedzy o Unii Europejskiej, Wiedzy o Polsce i Świecie Współczesnym, Wiedzy o Państwie i Prawie, Wiedzy o Sejmie oraz międzynarodowym Konkursie Matematycznym Kangur. Swoją postawą Kamil pokazuje, że warto próbować, a nie warto się poddawać. Kamil Witowski w oczach swoich kolegów i koleżanek budzi ogromny podziw. Całkowicie oddaje się swojej pasji i jak sam podkreśla robi to co lubi, a jego sukcesy pokazują, że ciężka i uczciwa praca nie idzie na marne i daje perspektywy na przyszłość.
Małgorzata Ryzner