Opublikowano: 16 kwiecień 2016
Odsłony: 1110
W ostatni piątek – 15.04.2016r.  w murach naszej szkoły zagościł Starosta Powiatu Łańcuckiego – Adam Krzysztoń. Jego sylwetkę przybliżyła nam Paulina – uczennica klasy 1F. Swoją działalność jako starosta rozpoczął w 1998r. i czynnie sprawuje ją do dzisiaj.
Zapytany o cechy, które powinien mieć starosta, wymienił między innymi otwartość na ludzi, chęć współpracy i podejmowanie się wyzwań.
 Za kadencji Pana Krzysztonia podjętych zostało wiele działań na rzecz powiatu. Przede wszystkim zmiana przeznaczenia niektórych szkół, rozbudowa szpitala, remonty dróg. Pan starosta podkreślił również sukcesy zespołów tanecznych, a także aktywność chóru, orkiestry i teatru.
            Jako największą potrzebę powiatu uznał zwiększenie liczby miejsc pracy. Pan Krzysztoń stwierdził, że mogłoby to zapobiec migracjom młodych mieszkańców do większych miast. Chciałby, we współpracy z władzami miasta, dalszej modernizacji szpitala i utworzenia nowych oddziałów, otworzenia obwodnicy, renowacji starych budynków, a także remontów dróg.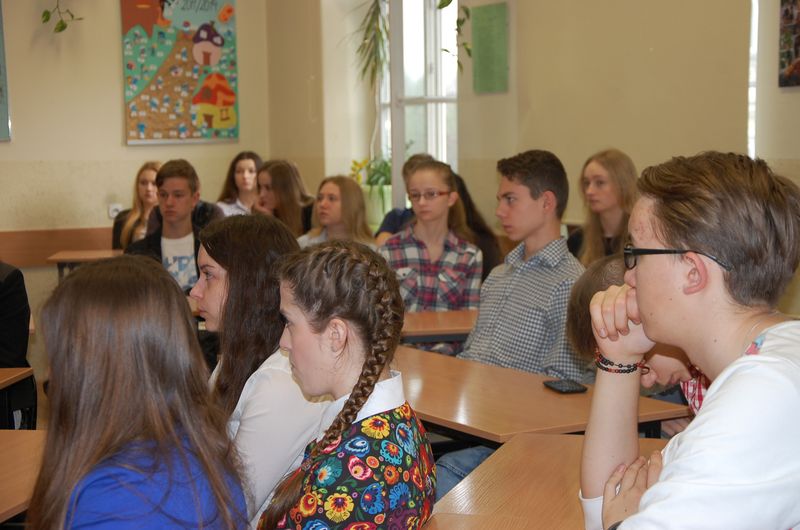 Pan starosta pozytywnie wyrażał się o niedawno otwartym Muzeum Polaków Ratujących Żydów podczas II wojny światowej im. Rodziny Ulmów w Markowej. Stwierdził, że jest to świetna wizytówka powiatu, która cieszy się zainteresowaniem również za granicą. Wskazał również, że placówka wymaga pewnych prac, między innymi budowy parkingu czy toalet.
Pan Krzysztoń, zapytany o miejscowy oddział obrony terytorialnej przyznał, że taka jednostka powinna funkcjonować w powiecie. W razie potrzeby możliwe jest wykorzystanie miejscowej Strzelnicy.
            Na sam koniec przytoczyliśmy opinie mieszkańców Łańcuta zarówno o staroście, jak i wykonywanej przez niego pracy. Wiele z nich, dotyczących również sfery prywatnej, miało oddźwięk pozytywny. Tym samym zakończyliśmy spotkanie i pożegnaliśmy Pana Adama Krzysztonia.
Barbara Kolek
Aleksandra Trojnar